Meet the Dental Team – Chardon, OH
We are Here to Help
For the best in smile rejuvenation and dental care, we invite you to try Chardon Smile Center. We offer an excellent range of restorative, preventive, and cosmetic dentistry services designed to keep you happy with your smile! Our Chardon dental office offers CEREC one-visit crowns as well as teeth whitening and porcelain veneers. And like our other locations, we also offer regular checkups, root canals, gum disease therapy, and much more!
Sarah
Patient Coordinator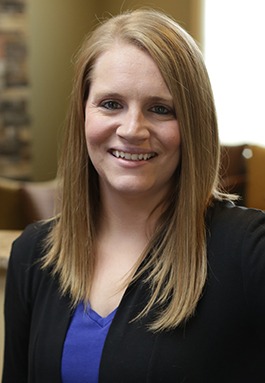 Sarah has been a part of our dental office for over a decade now, and she really enjoys working alongside the other amazing team members. Being able to help patients feel comfortable as soon as they walk in while also answering their questions/concerns is always something she looks forward to! She studied at the Cleveland Institute of Dental and Medical Assistants.
Originally from Middlefield, Sarah is married to her high school sweetheart Anthony. They have two amazing kiddos named Hailey and Hunter, as well as a rescue dog named Pluto. In her spare time, some of her favorite hobbies include camping, crafting, and hiking outdoors. She also LOVES all things Disney!
Kristie
Patient Coordinator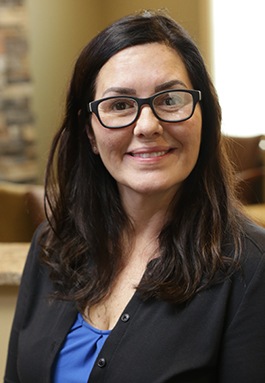 A graduate of the Cleveland Institute of Dental-Medical Assistants, Kristie is a top-level professional with 25+ years of experience in dentistry. Always ready to meet new patients, she loves to work with others to ensure they receive proper care and have a wonderful experience. She knows the importance of her job and strives to be a perfectionist at everything she does!
Ann
Registered Dental Hygienist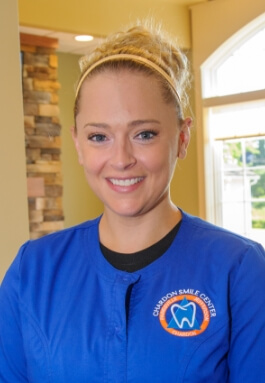 Ann studied dental hygiene at Lakeland Community College and has been a part of this field for well over two decades. What she enjoys most about her job is being able to see patients that span generations! Watching children grow up, get married, and have children of their own is always so rewarding, especially because she works so hard to build personal relationships with them from appointment to appointment. She also loves sharing important knowledge that will help them enjoy healthier, happier smiles in the long-term.
Ann is married with five children. Her family loves traveling and being outdoors together! As for personal hobbies, one of her biggest passions is designating/decorating rooms in a home.
Stephanie
Registered Dental Hygienist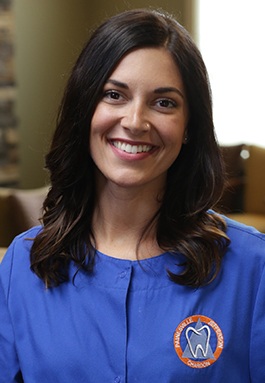 As one of our hygienists, Stephanie loves being able to spend time alongside her wonderful coworkers and patients each day. Originally from Cleveland, she's been working in the dental field for over a decade now.
Away from work, Stephanie is happily engaged and has fur babies at home. Traveling is her #1 hobby – she really wants to see the whole world! So far, she's been to 15 countries, with more on the way. You can also often find her camping, golfing, and (trying to learn) snowboarding.
Kimberly
Registered Dental Hygienist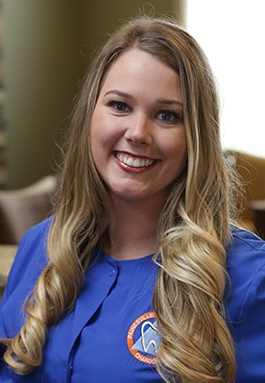 Kim hails from Southington, and she's been with our dental office for almost five years so far. As a hygienist, she really likes educating patients and being an important part of their journey towards better oral health.
In the last year, Kim and her husband bought a farm and have renovated it top to bottom over the course of nine months. DIY projects are a true passion of hers. She also spends plenty of quality time with her son Baylor. They another baby on the way soon!
Jennifer
Dental Assistant (EFDA)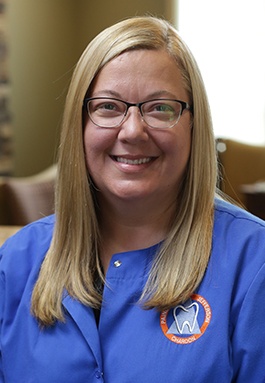 Jennifer has been a part of our team for decades now, and she never gets tired of seeing the joy on a patient's face after their treatment is complete. Helping others feel good about themselves is its own wonderful reward! She attended the EFDA program at Case Western Reserve University for her education.
Originally from Jefferson, Jennifer's family consists of her wonderful husband, their beautiful grown daughter, five crazy dogs, and one Koi fish. In her spare time away from work, she enjoys hanging out with loved ones, cooking, riding in her Jeep, kayaking, shopping, or simply watching a movie. She also LOVES making homemade candy and crafts for others!
Andrea
Dental Assistant (EFDA)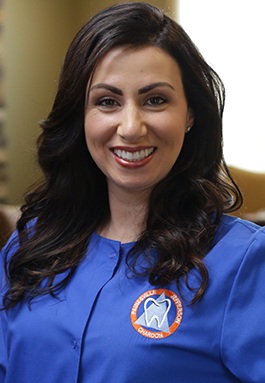 Andrea has been a part of the dental world for over 15 years so far, and she loves being able to help a patient improve their teeth so they can smile confidently again. Originally from Cortland, she attended Case Western Reserve University Dental School for her education.
At home, Andrea is married with two children named Eva and Brody and a Golden Retriever named Lola. Being a mom keeps her VERY busy, but when she isn't taking care of everyone else, some of her favorite hobbies include cooking, listening to music, exercising, shopping, and spending quality time with friends. She also loves good food and wine, to the point of being a little bit of a snob about it.
Katrina
Dental Assistant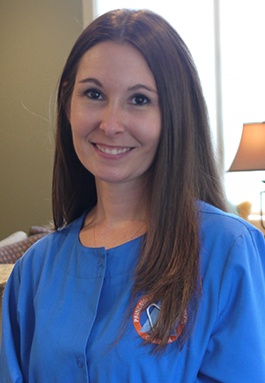 Katrina's career in the dental world covers seven years so far. She studied at Cleveland Institute of Dental & Medical Assistants and is also certified in HIPPA/OSHA, radiography, and CPR. Her favorite part of this job is the wonderful people and patients she works with. Her coworkers actually call her Hurricane!
Originally from Madison, Katrina's family consists of her three children (Joey, Kyra, and Sofia), her fiancé, and her dog Finn. Her hobbies include traveling, camping, being outdoors, hiking, and spending time with her loved ones.
Bekah
Dental Assistant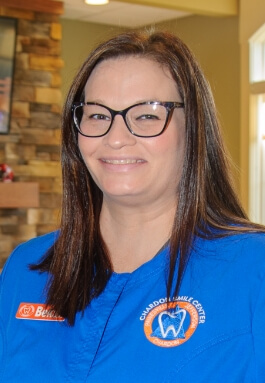 A Painesville native, Bekah's dental career spans over 15 years so far. In fact, her love of the field began when she used to visit Painesville Dental Group (our sister dental office) as a child! She studied assisting at the Cleveland Institute of Dental and Medical Assistants. Today, what she likes most about her role at Chardon Smile Center is helping patients feel better about their smiles.
Bekah and her husband Mike have a daughter named Maggie, as well as another daughter who's on her way in November of 2021. Some of her favorite hobbies include hiking, camping, swimming, and (of course) being with family.